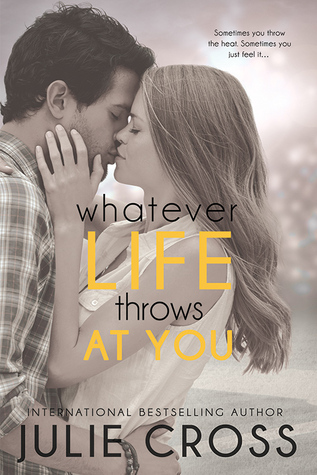 Title: Whatever Life Throws at You
Author: Julie Cross
My rating: 3.5 of 5 Stars

SUMMARY (from Goodreads)
Life loves a good curveball…

Seventeen-year-old Annie Lucas's life is completely upended the moment her dad returns to the major leagues as the new pitching coach for the Kansas City Royals. Now she's living in Missouri (too cold), attending an all-girls school (no boys), and navigating the strange world of professional sports. But Annie has dreams of her own—most of which involve placing first at every track meet…and one starring the Royals' super-hot rookie pitcher.

But nineteen-year-old Jason Brody is completely, utterly, and totally off-limits. Besides, her dad would kill them both several times over. Not to mention Brody has something of a past, and his fan club is filled with C-cupped models, not smart-mouthed high school "brats" who can run the pants off every player on the team. Annie has enough on her plate without taking their friendship to the next level. The last thing she should be doing is falling in love.

But baseball isn't just a game. It's life. And sometimes, it can break your heart…

MY THOUGHTS

Whatever Life Throws at You is a lovely story and I enjoyed it. I should probably admit right away that I know close to nothing about baseball so I can't really say if all baseball references were correct. When it comes to sport-centered books I'm usually hesitant to pick up one, but though baseball plays a big role in this novel I wasn't overwhelmed. So even if you're not a sport fan, don't let this steer you away from this book.
Though Whatever Life Throws at You is definitely a love story, my favorite aspect of this book is Annie's relationship with her father. They have such a strong bond and there are so much love, caring and support between them. It's so wonderful and it made me tear up several times while reading.
As for the romance, unfortunately, it didn't work for me. Something was off. I felt like where wasn't enough chemistry between main characters. Also it is sort of a forbidden love as Annie is seventeen years old High School student and Brody is a nineteen years old baseball player. There are many things at stake for them, especially for Brody. I wasn't convinced that there was something between them that they would risk it all. Maybe my mistake was that I started reading Whatever Life Throws at You right after I've finished
Hero
by Samantha Young, where chemistry between main characters was off chart.
After reading the blurb I expected this book to be about Annie adapting in her new school and finding new love. As it turned out it is more about family and yes, new love, but we don't see much of Annie's school life. Annie is a very likeable heroine. She is such a smart-mouth, her witty remarks and comments made me laugh. She is also strong-willed, competitive, caring and loving person.
Brody in my opinion isn't developed enough. I wanted to know more about him. I wanted to know what was behind his decisions.
There was also this little part that I loved. Annie is a runner and she is very competitive. There is this girl on her track team, who is Annie's competitor. It's obvious they are not best friends, because of all this tension, but I really appreciate that Julie Cross didn't go with the angry-hate-each-other-girls road. Here we have a healthy competitive relationship where girls obviously respect each other. I especially liked this particularly scene
I also liked the side story about Annie's father.
Whatever Life Throws at You by Julie Cross is a sweet and heartwarming novel about family and love. Despite it having several flaws I recommend it.