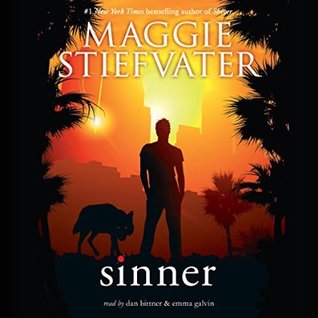 Title: Sinner (The Wolves of Mercy Falls #4)
Author: Maggie Stiefvater
Narrator: Dan Bittner and Emma Galvin
My rating: 4 of 5 Stars
My rating of Narration: 5 of 5 Stars

SUMMARY (from Goodreads)

found.
Cole St. Clair has come to California for one reason: to get Isabel Culpeper back. She fled from his damaged, drained life, and damaged and drained it even more. He doesn't just want her. He needs her.

lost.
Isabel is trying to build herself a life in Los Angeles. It's not really working. She can play the game as well as all the other fakes...but what's the point? What is there to win?

sinner.
Cole and Isabel share a past that never seemed to have a future. They have the power to save each other and the power to tear each other apart. The only thing for certain is that they cannot let go.

MY THOUGHTS

This review is a little spoilerish if you haven't read previous books in this series.
I've listened to the audio version of the whole series and it's very well done. There are four narrators, each for Sam, Grace, Cole and Isabel; each of them made an amazing job bringing these characters to life. I know most of YA-lovers have already read this series, but if you decide to reread this series I highly recommend the audiobooks. Actually I remember Maggie Stiefvater herself said in one of her interviews that she was pleased how the audio had turned out.
I loved Sinner! Though my favorite in this series is the second book Linger, Sinner is close behind.
For those of you who haven't read Sinner yet, this book is about Isabel, who moved back to LA, and Cole, who came there to record an album and be on reality show.
There are several reasons this installment worked for me.
1. This book reads almost as a contemporary.
You see, I'm a contemporary girl. I always prefer good contemporary to paranormal or fantasy, though I often venture to these genres and I'm happy when I can find some gems, hidden there. Anyway, back to Sinner. Paranormal aspect of it is practically nonexistent. In previous books "shapeshifting equal losing yourself" was in the front; Sam's struggles to stay himself had profound effect on readers. In Sinner Cole's shifting to a wolf is a way to run from reality, like drugs or alcohol. And his ability to control his shifting, to become a wolf when he wants it, only accentuates this similarity to drugs. I'm rumbling here, I hope you get what I'm trying to say.
2. Romance with a celebrity is my favorite trope.
I have a soft spot for famous heroes in my books. Give me an actor or a rock star who fall in love with a noncelebrity heroine and I'm a happy girl. But Maggie Stiefvater is Maggie Stiefvater, of course she took this usual trope about a tortured famous rock star and an average girl and made it into something beautiful, unexpected and wonderful.
3. Cole and Isabel's relationship was intense.
Cole and Isabel were very intense characters and their relationship was explosive. I don't mean only their sexual interactions, though compare to previous books there was definitely more this stuff in Sinner and these scenes between Cole and Isabel were hot.
Both Cole and Isabel are unstable persons, so while reading this book I was constantly nervous, in anticipation of someone's breakdown or some disaster happening. I can say that I wanted this intensity and instability in previous installments. I loved Sam and Grace, but I wanted some angst.
I don't know why, but I find very difficult to write a proper review on Maggie Stiefvater's books, and I see that this attempt is no better than the previous. But I hope I was able to convey my love for this author, who writes beautiful and strange stories with amazing characters, which would stay with you for a long time.