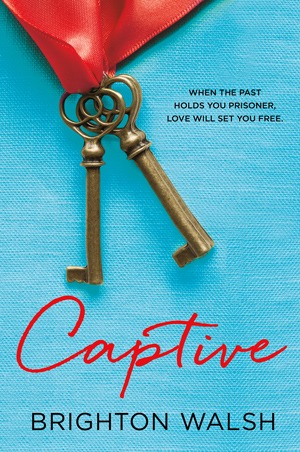 Title: Captive (Captive #1)
Author: Brighton Walsh
My rating: 3.5 of 5 Stars

SUMMARY (from Goodreads)
He's the most dangerous man she's ever met…and she's falling in love with him.

Madison Frost is desperate to escape her life. Daughter of a prominent businessman, she has everything a girl could ask for. Except for a family who's present in her life, and anyone to talk to outside the four walls of the prison she calls home. Madison dreams of one day leaving her life behind. She never thought being kidnapped is how it would happen.

Now she's being held captive by a man who's as frightening as he is sinfully gorgeous. Enormous, muscular, and filled with secrets, the man they call Ghost is an enigmatic mercenary, and Madison is trapped with him. She doesn't know who hired him or why, but the more time she spends at his mercy, the more she realizes he's not what he seems. Beneath his rough exterior lies an unexpected gentleness and a heart as broken and battered as her own.

But as Madison lets down her walls, Ghost holds tight to his, hiding secrets that could destroy everything.

MY THOUGHTS

I've read this book a while ago and wasn't in the mood to write a review right away. Now some details are a little bit foggy, so it will be a mini-review.
Captive was such a mood read for me. I wanted a brain-candy and I got one.
Despite the fact that this book is about kidnapping, Captive is a sweet love story at core. Romance is the strongest aspect of this book. My favorite part of romance is prelude. Build-up, furtive glances and touches, fighting their feelings, gradually increasing sexual tension; these are elements that make great romance for me. And Brighton Walsh delivered it all. I loved romance between Madison and Ghost.
I found both main characters interesting, but I would like them to be more fleshed out.
As for the plot it was rather weak in my opinion. I think fans of suspense and thrillers would be disappointed. There were many little inconsistencies and gaps, as for the big revelation, I personally found it far-stretched and unbelievable.
My final verdict: if you want romantic suspense with unpredictable realistic plot, you should probably look elsewhere. If you are looking for a romance with amazing chemistry and sexual tension, grab Captive right now.
Captive was my first book by Brighton Walsh, but won't be my last. I think I'll check out the next book in this series, also I've heard a lot of positive things about another series by this author Caged in Winter which is on my tbr-list.