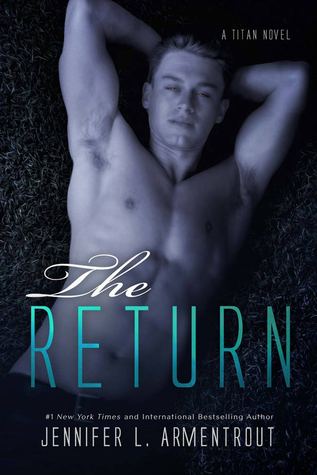 Title: The Return (Titan #1)
Author: Jennifer L. Armentrout
My rating: 4 of 5 Stars

MY THOUGHTS

My friend Jeanne said in one of her reviews, that "sometimes you just need a book that makes you happy". And Return had such effect on me. I was absolutely giddily happy, with lightness in my heart and smile on my lips, when I closed this book. Don't you think it's worth something?
Warning: some minor spoilers for Covenant series ahead.
I admit I had my reservations about this book. Return is a spinoff of Covenant series. I've read it when I was just discovering YA. Wide-eyed and inexperienced in this genre, I loved it. Seth played a big role in Covenant, and I can't say I was his fan. Firstly he made some pretty bad decisions with consequences. Secondly, I was Aiden team.
But Seth was very different in The Return. And it didn't feel forced. Events in the last books of Covenant changed him. While he continued to keep his arrogant "I don't care" façade, inside he blamed himself and he was so lonely. In Return we got to see vulnerable, gentle and caring Seth. Seth, who longed to be loved and to love. I fell in love with him.
Seth assigned to protect Josie, a mortal girl, and he was not happy about it. She was a wonderful heroine. She lived an average life of a college student, she studied, had fun with her best friend and had family problems. Then she was suddenly thrust into this new world with Greek Gods, dangerous creatures and she was told that she had a dangerous mission. She took it all in with admirable strength.
I loved their relationship with Seth. Josie stood her ground and I liked how she teased Seth. While Covenant is YA, The Return is NA through and through. There were a lot of delicious steamy scenes in this book. I loved chemistry between Seth and Josie. Jennifer Armentrout like no one can write amazing sexual tension. There was an element of forbidden romance and I admit I wanted more in this aspect. I think they gave up too easily to their attraction. I'm a fan of forbidden romance and I would love to be left hanging a little longer (like it was in Covenant, there was a huge forbidden romance).
Those of you who loved Covenant would be pleased to meet familiar characters. And there was a lot of fun in this book.
Jennifer Armentrout surprised me with her ability to make me look at a character from a new angle, to go beyond familiar. She did it with Seth and she did it with another character. If you've read Covenant, I'm sure you remember furies. I wasn't a big fan of these dangerous creatures. I don't want to spoil anything, so I just say that the author absolutely changed my view of them.
You don't need to read Covenant before The Return, the author went over the most important events of Covenant. Though I personally think that those who'd read Covenant would enjoy The Return more. Advice: if you intend to read Covenant, the reading order is Covenant first, The Return next.
Of course The Return is not without flaws, there are a lot of usual NA tropes and world building is pretty weak, but you know what? I don't care! I enjoyed this book immensely. It made me smile, it made me swoon, and it made me care for the characters. I didn't have luck with several recent releases from Jennifer Armentrout, in truth I began to wonder that maybe she's not the author for me anymore. This book made me realize that I still love her works and I can't wait for the next book in this series!