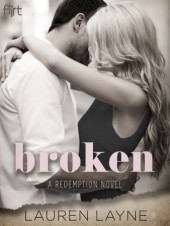 Title: Broken (Redemption #1)
Author: Lauren Layne
Publication date: September 2nd 2014
Publisher: Flirt
My rating: 5 of 5 Stars

SUMMARY (from Goodreads)
When Olivia Middleton abandons the glamour of Park Avenue for a remote, coastal town in Maine, everyone assumes she's being the kind do-gooder she's always been. But Olivia has a secret: helping an injured war veteran reenter society isn't about charity—it's about penance. Only, Olivia's client isn't the grateful elderly man she's expecting. Instead, he's a brooding twenty-four-year-old who has no intention of being Olivia's path to redemption . . . and whose smoldering gaze and forbidden touch might be her undoing.

Paul Langdon doesn't need a mirror to show him he's no longer the hotshot quarterback he was before the war. He knows he's ugly—inside and out. He'll do anything to stay in self-imposed exile, even accept his father's ultimatum that Paul tolerate the newest caretaker for three months or lose his inheritance. But Paul doesn't count on the beautiful twenty-two-year-old who makes him long for things that he can never have. And the more she slips past his defenses, the more keeping his distance is impossible.

Now Paul and Olivia have to decide: Will they help each other heal? Or are they forever broken?
MY THOUGHTS

Last year I loved Isn't She Lovely by Lauren Layne. I thought it was a standalone so I was really excited when I found there would be two more books in this series. Broken is Olivia's story. Though she was sort of a villain in the previous book, I was intrigued by her and wanted to know more about this character. Also I was intrigued by this war veteran damaged emotionally and physically idea. Actually I've read several books with similar premise, but they always were lacking something. Broken by Lauren Layne was what I wanted from Stir Me Up by Sabrina Elkins and Making Faces by Amy Harmon. It had two great main characters, it was filled with passion and sexual tension, and it also shows us growth of our characters. Broken had great pacing and I couldn't put it down.

PS. I love cover-changes, because the cover of Isn't She Lovely was awful.