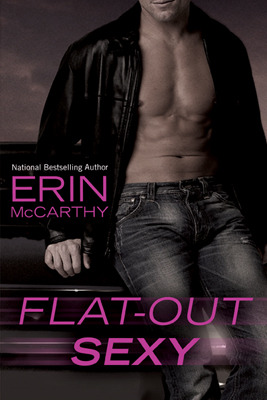 Title: Flat-Out Sexy (Fast Track #1)
Author: Erin McCarthy
Publication date: November 4th 2008
Publisher: Berkley
My rating: 4 of 5 Stars

SUMMARY (from Goodreads)

Independent single mother Tamara Briggs wanted to find a new, sexy, no-strings-attached man - just not one as young as NASCAR driver Elec Monroe. But he sure does get her heart racing. And after she's tricked into a blind date with him, Tamara gives in to her passion. Things screech to a halt, though, when he asks to meet her children. Whatever happened to wham-bam-thank-you ma'am? Suddenly Tamara has to decide how much risk she's willing to take to experience the power of true love.

MY THOUGHTS

I picked this book by chance. I was in a mood to read some erotica and Flat-Out Sexy caught my eye. I was surprised when I saw that the author was Erin McCarthy. I've read True from her True Believers series, and I had no idea she also had an adult series. So I decided to give Flat-Out Sexy a try. I was expecting light sexy mindless read, but this book was so much more.
It's an adult novel, so it has explicit sex, but the sex is only one aspect. Flat-Out Sexy is also character-driven story, with great main hero and heroine and amazing second characters. Our heroine, Tammara Briggs is a 32 years old widow with two children. Her deceased husband was a race car driver, who died in a racing accident 2 years ago. Now Tammara is trying to juggle raising children and career and trying to start dating again. At a party she bumped into Elec. They are instantly attracted to one another which led to a night of hot sex. However in the morning Tamara discovers that Elec is younger than she is (he is 26 years old), he's also a race car driver. So she decides that it was a one-night stand. But despite the age difference and her apprehension of being with racecar driver again they just can't stay away from one another.
I think Tammara is portrayed very realistic. It's really difficult not to root for her. After being married for more than decade it's strange for her to be dating again. She has now children to care and consider. She is afraid to be in relationship with a man with a risky job again. She has insecurities about her body after giving birth to two children. And she is so real. I especially liked her relationship with her children.3
Elec is such an awesome hero. It's hard not to fell in love with him. He is caring and understanding. He doesn't push Tammara, he tries to help her. I really liked how close he is to his family. It's little pieces like Elec asking his mother's advice about chicken pox or his banter with his siblings. It is very obvious they are very close and they love each other. All in all Elec is a fresh air among alpha-heroes who are often just dominating jerks.
There are amazing second characters in this book. My favorites are Suzanne, Tammara's best friend, and Ryder, race car driver and Suzanne's ex-husband. I was thrilled when I learned that there is their own book Hot Finish. Elec's sister Eve and his brother Evan are another great second characters.
Also this book is so much fun. There are many laugh-out-loud moments and Erin McCarthy surely knows how to right funny dialogues.
So if you're looking for sexy romance with great characters and humor and light on angst Flat-Out Sexy is what you need.