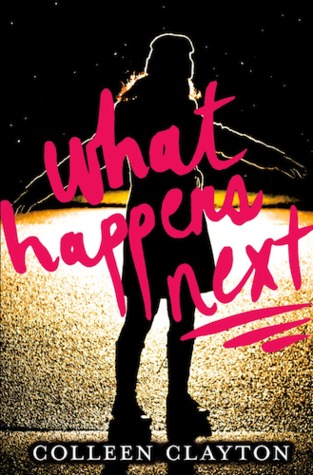 Title: What Happens Next
Author: Colleen Clayton
Publication date: October 9th 2012
Publisher: Poppy (Little Brown Books for Young Readers)
My rating: 5 of 5 Stars

SUMMARY (from Goodreads)
How can you talk about something you can't remember?

Before the ski trip, sixteen-year-old Cassidy "Sid" Murphy was a cheerleader (at the bottom of the pyramid, but still...), a straight-A student, and a member of a solid trio of best friends. When she ends up on a ski lift next to handsome local college boy, Dax Windsor, she's thrilled; but Dax takes everything from Sid—including a lock of her perfect red curls—and she can't remember any of it.

Back home and unable to relate to her old friends, Sid drops her college prep classes and takes up residence in the A/V room with only Corey "The Living Stoner" Livingston for company. But as she gets to know Corey (slacker, baker, total dreamboat), Sid finds someone who truly makes her happy. Now, if she can just shake the nightmares and those few extra pounds, everything will be perfect... or so she thinks.

Witty and poignant, Colleen Clayton's stunning debut is a story about moving on after the unthinkable happens.

MY THOUGHTS

It's really difficult for me to write a proper review on a book I've loved so much. I found myself at a loss for the words, drowning among emotions and thoughts. Though I'm sure I can't do this amazing book any justice, I'll try to write my thoughts.
What Happens Next is one of those books that lingers long after you turned the last page. I've read several books about rape, but it's the first one dealing with date rape drugs. Sid couldn't remember what happened that night. She remembers school ski-trip, how she met Dax Windsor and spent an entire day with him. He is older, handsome and seems to like Sid. She remembers him inviting her to the party and how she sneaked out to go there. But when she went to his house there is no party, just him. She remembers him inviting into the house. But after – nothing. And in some ways it is worse than remember.
Back at home Sid tries to cope with what happened with her. There is her eating disorder; her obsessive running and her insomnia, how she feels uncomfortable in her body and fears men's attention. Sid pushes away her friends, she can't confide in her mother, she is surrounded by school rumors about her rebellious sexy ski-trip and she is completely alone. Then she is paired with the school "stoner" Corey and slowly they form an unlikely friendship.
Romance is slow-build and very sweet. I also appreciate that Corey wasn't the main reason that Sid was able to move on. He supported her, as well as her family and friends helped her, but in the end it was Sid herself who find her strength.
Corey is a wonderful love interest. Among all those jerks in YA he really stands out. Corey is such a nice guy, he is caring, kind. He is not perfect and he has his own family problems, but he is there for Sid, supporting, not pushing her if she is not ready.
There are also great second characters in this book: Sid's best friends Kristen and Paige, her mother and little brother. They all are so real and I like how close she was to these people.
What Happens Next is a heartbreaking and powerful book. Though it deals with such tough topic as rape at a core What Happens Next is a very moving and filled with hope story. It's not one of those gut-wrenching, painful and filled with raw emotions books. Yes, I cried; yes, I felt for Sid; it was like I went through her dealing with the rape with her; but at the end this book wasn't about desperation, it was about moving on. All in all I think it's my favorite book that deals with the rape. I highly recommend it.